From about the end of August until about now, I've been on a pretty big football kick. Maybe it's the weather? We'll probably never figure out the answer, but I've watched a lot of football (the real reason I started a different job, I don't care about my family). I've watched high school, college, NFL, flag, you name it.
The game has changed so much since I was a youth, and with that, certain statistics and numbers have become absolutely gaudy. That got me thinking: who has thrown the football for more yards than any other person on the planet? High school records are just hilarious to look at, so these guys must mix things up a bit.
Well if you can't tell by the header image, no, they in cast, do not mix things up a bit. Dumb-dumb thinking on my part, but since I looked into it, here are the greatest yard-getters in history and some other FUN FACTS!
First fun fact: I originally didn't include playoff stats because I didn't think of it. But then I figured someone ight cry about Tom Brady, so they are now included. College bowl stats are not because they didn't count officially for any of these players and also I'm lazy.
Passing
Drew Brees – 102,977 yards (HS – 5461, College – 11,792, NFL – 80,358, Playoffs- 5366)
So yeah, basically if you're the all-time leader in the NFL, you're the all-time leader for everything. Brady is definitely going to pass him because he needs like 2,000 yards. He'll probably have that by Week 8. But not right now! Purdue Brees > Michigan Brady.
FUN FACT: Brothers Maty and Ben Mauk are the top two leading passers in high school history. It did not lead to a future in the NFL.
Rushing
Emmitt Smith – 32,673 yards (HS – 8804, College – 3928, NFL – 18,355, Playoffs – 1586)
I never liked Emmitt Smith. He played for the Cowboys. He wasn't Barry Sanders. What more reasons could I need? But the dude could run the ball. He was at the time the second leading rusher in high school history (also had over 100 TDs), which did lead to a future in the NFL. Great career, still don't like him.
FUN FACT – Derrick Henry of Tennessee Titans fame, is the current record holder for rushing yards in high school. With 12,144!!!! Could you imagine battling through puberty trying to tackle this dude?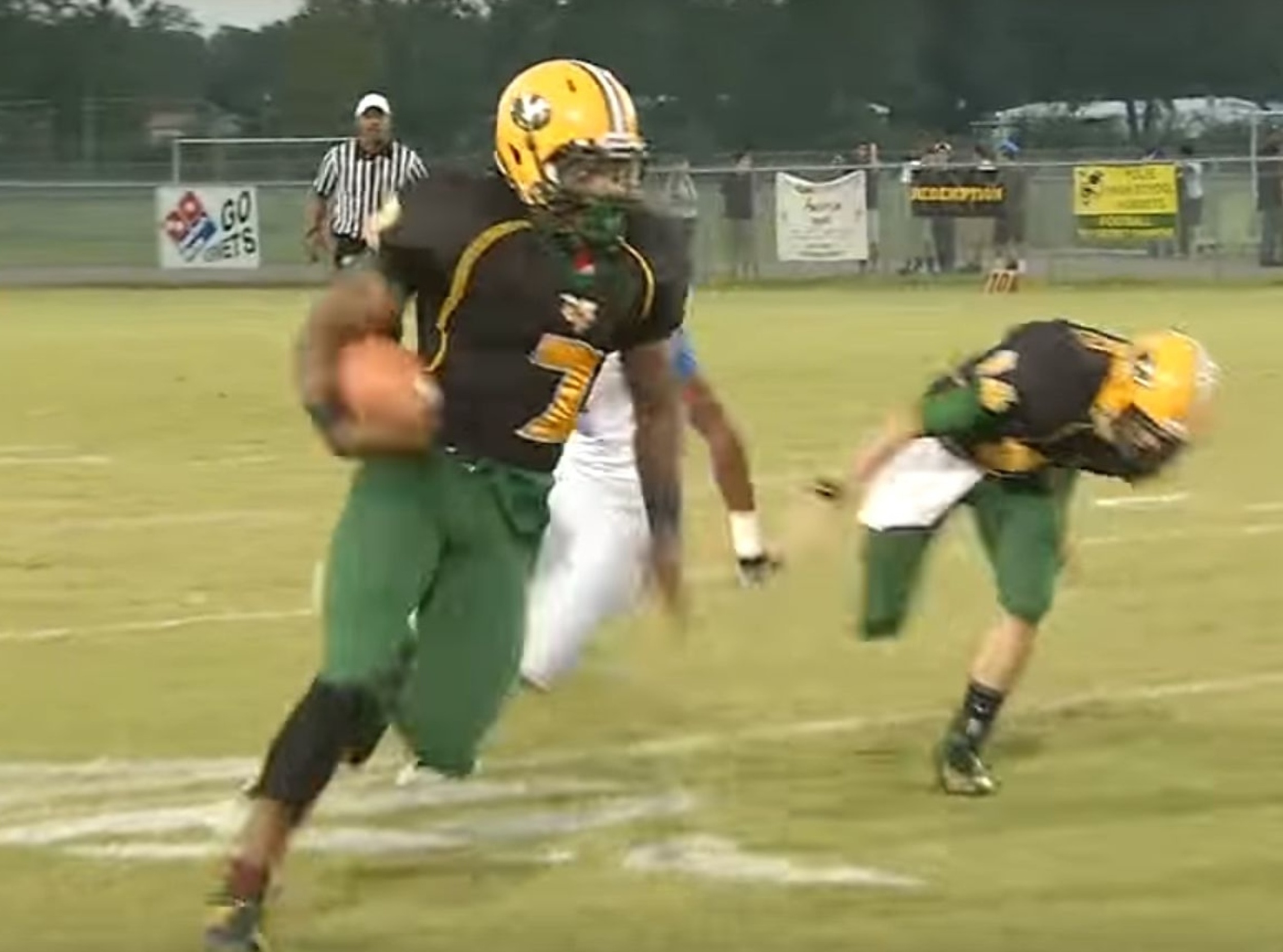 Even with those crazy numbers and having an excellent start t his NFL career, he'd need over 10,000 yards to pass Emmitt Smith lifetime.
FUN FACT: Speaking of Barry Sanders, he rushed for 1417 yards in high school. In 5 games.
FUN FACT: I don't care what anyone says, Ron Dayne is the leading rusher in NCAA history.
Receiving
Jerry Rice – 29,833+ yards ( HS- ?, College – 4693, NFL – 22895, Playoffs – 2245)
High school stats were spotty at best for anyone that was in the conversation for receiving records. I'm more of a Randy Moss guy myself, but no one is ever touching Rice's records. I'm assuming he had more than 200 yards in high school, which would put him over 30,000 for his life. The next closest human (Larry Fitzgerald) is most likely 8,000 yards behind him.
FUN FACT: Wide receivers are flashy personalities but boring statistically!